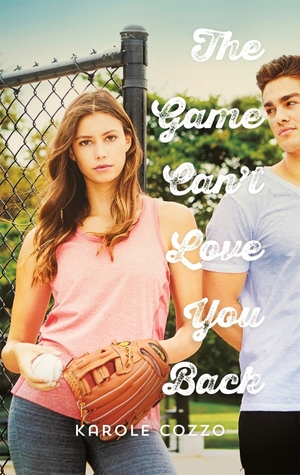 The Game Can't Love You Back by Karole Cozzo
Genre
: Young Adult
Publication
: May 15th, 2018 by Swoon Reads
Eve is used to being the odd woman out. As the only girl on her school's baseball team, she knows exactly how to put sweaty, macho baseball players in their place, and she's focused on one thing and one thing only—being the best pitcher she can be.

But when a freak accident forces her high school to be absorbed by the neighboring town, Eve has to contend with a new group of guys who aren't used to having a woman on their team. And the new team's star pitcher, Jamie, has no interest in being ousted from his throne. He can't afford to give up his starting slot to a new pitcher—even worse, to a girl.

As the competition between Jamie and Eve starts to heat up, so does their attraction to each other. Can they keep their heads in the game, or will they end up getting played?
Purchase
I love sports. Okay, that's not true. I love football, I could do without the other sports. BUT. I love the love for sports, and I love reading about characters who love sports, and I love reading books where the author knows what they're writing about. Nothing irks me more than a "sports romance" where the sport is a plot device and the author clearly knows nothing about the sport. Irks. IRKS. So, I'm happy to say that in The Game Can't Love You Back, the characters' love for baseball felt genuine.
I devoured this book. I'm not going to say it absolutely blew me away, but it was adorable and I was hooked from Eve and Jamie's first encounter. Their chemistry and banter was so much fun.
I do think there was a missed opportunity for a bit more depth, specifically with Jamie's home life. But, if it's not that kind of book then it's not that kind of book, and that's okay.
If you're in the mood for a quick and cute contemporary read, this one is for you!