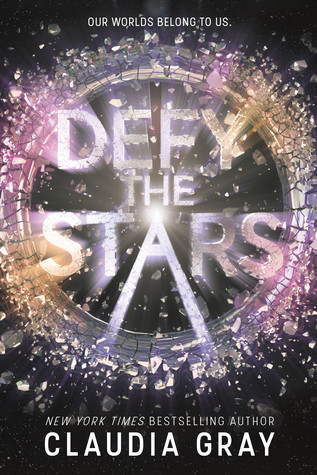 Defy the Stars by Claudia Gray
Hardcover, 512 pages
Publication: April 4th, 2017 by Little, Brown Books for Young Readers
Amazon
|
Barnes & Noble
Noemi Vidal is a teen soldier from the planet Genesis, once a colony of Earth that's now at war for its independence. The humans of Genesis have fought Earth's robotic "mech" armies for decades with no end in sight.

After a surprise attack, Noemi finds herself stranded in space on an abandoned ship where she meets Abel, the most sophisticated mech prototype ever made. One who should be her enemy. But Abel's programming forces him to obey Noemi as his commander, which means he has to help her save Genesis--even though her plan to win the war will kill him.

Together they embark on a daring voyage through the galaxy. Before long, Noemi begins to realize Abel may be more than a machine, and, for his part, Abel's devotion to Noemi is no longer just a matter of programming.
"Sometimes she wishes she could turn herself inside out. That way people would see the good in her before they saw the bad."
Defy the Stars was a lot of fun! It didn't blow me away, but I did enjoy it.
Defy the Stars is written in alternating perspectives. Claudia Gray does a good job of creating characters that are realistic for both their circumstances and their ages. Though this is YA, neither of the main characters are your typical teenager, and they both have responsibilities that you obviously aren't going to find in reality. However, she does a good job of capturing the youthfulness of their ages, and balancing that with their motivations, which are dictated by their circumstances. I enjoyed both of their perspectives, and enjoyed watching them grow as characters.
Though the world-building and story didn't absolutely blow me away, I did enjoy following these character from one planet and culture to another. Noemi and Abel are on a mission, while also running for their lives, and this made for a lot of juicy tension.
I enjoyed the start to this new series by Ms. Gray, and I look forward to seeing where else it takes us.
-----------------------------------------------------------------------------------------------------
Want to a chance to win a copy of DEFY THE STARS & a $25 gift card? (thanks to Big Honcho Media!)
Comment below and let us know what YA Sci-Fi novels you would recommend we pick up!
Be sure to leave a way for us to contact you! If you're uncomfortable leaving your email, let us know where we can find you on Twitter!
Good luck! :)