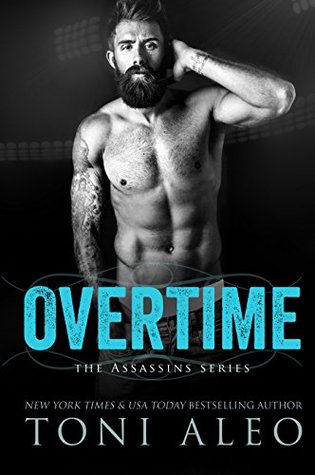 Overtime by Toni Aleo
Genre: Contemporary Romance
Down and out with an injury keeping him away from the game, Assassins' defenseman Jordie Thomas lives for the blades of his skates on the ice and the feeling of oblivion off it. With no choice but to heal, he's forced away from the sport that runs through his veins. With everything at stake and darkness setting in, he quickly finds himself spiraling even further out of control. As his life begins to come crashing down around him and his contract with the Nashville Assassins on the line, he's given an ultimatum. Ready or not, Jordie is forced to face his past, the fears that consume him, and the one woman he let walk away.

Kacey King had her professional dreams come true, yet her heart was battered and broken. With an Olympic gold medal around her neck, she's ready to look forward to the future but without the one man she wanted in it. She's missing the key pieces of her heart she left months ago with the only person who was capable of destroying it, causing her to falter in all her plans to move on.

In the game of life, there are winners and losers, and neither Jordie nor Kacey want to be on the losing bench. If only Jordie could convince Kacey he's a changed man and that he wants her right by his side as his MVP for the biggest and best parts of a life they build together. With emotions running high and the game on the line, can two proud people find happiness with each other, or will their hearts and souls be left in the cold? Will they see that sometimes having someone by your side who knows the good, bad, and broken is better than going it alone and losing everything through the back of the net? They are out of time on the game clock and fighting for the win of their lives.

But overtime was made for an Assassin like Jordie.
----------
Teaser ----------
He had consistently been making bad decision after bad decision. Each one was staring back at him from behind his closed lids, and he wished he could make them all go away. But still they flashed in his face, demanding his attention.
Going in for the puck when he knew there was a goon of a player behind him and ending with his leg in two. Which resulted in his career being up in the air.
The drinking. Fuck, the drinking.
Getting involved with his best friend's sister.
Falling in love with said sister, and then pushing her away, like he always did everyone.
It was time to make the right choice for once.
He had to, because he had already lost the one person who meant everything to him, and he couldn't lose hockey too.
----------
About the Author
----------



When not rooting for her beloved Nashville Predators, she's probably going to her husband's and son's hockey games and her daughter's dance competitions, taking pictures, scrapbooking, or reading the latest romance novel.

She lives in the Nashville area with her husband, two children, and a bulldog. Read more about Toni here.

Website |

Facebook

|

Twitter

|

GoodReads