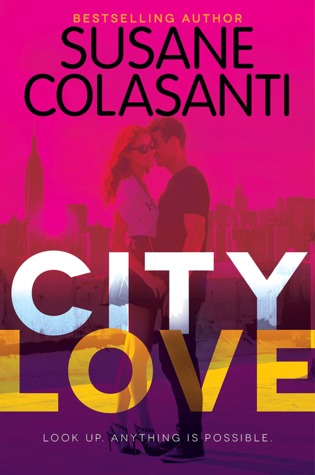 City Love
By Susane Colasanti
Published April 21st 2015
by Katherine Tegen Books
Amazon
†
B&N
†
Author Site
Sadie, Darcy, and Rosanna are living together in New York City the summer before their freshman year of college begins. With no parents, no rules, and an entire city to explore, these three girls are on the verge of the best summer of their lives.

Sadie is a native New Yorker. She is hopeful, romantic, and an eternal optimist who is ready to find her soul mate. Then she meets her dream boy: cute, funny, and quirky in all the right ways. The chemistry between them is unreal. Could he be the one?

Darcy is a free spirit from SoCal with rebellious tendencies and unlimited financial resources. Moving to New York City is just another adventure for her. Darcy wants this summer to be all about boy adventures—nothing serious. But how much fun is too much?

Rosanna leaves Chicago for NYC so she can put her past behind her and reinvent herself. The only thing standing in her way is the grand total of seventy-three cents she has saved. Then she meets a guy who wants to show her the glamorous side of New York—a side that she would never get to experience on her own. If Rosanna doesn't resist, she may find herself in city love.

Told from alternating points of view, City Love captures the moments in each girl's life when everything is thrilling, amazing, and terrifying all at once . . . in a way it will never be again.
I was hesitant to read this book at first because I am beyond picky about stories about my beloved city. I was born and raised in NYC, and any story I read where it's the location, better do it justice. So with that said, I think Susane did a great job making sure NYC was showcased well, and gave a true insight to our surroundings.
The story is told from three roommates perspectives. There's Sadie (born and bred New Yorker), Darcy (rich girl from Santa Monica), and Rosanna (scraping to get by, from Chicago) all with different outlooks on summertime romance in the city.
I was noticing throughout each chapter that the girls didn't have much interaction with each other. I found this odd, and felt like I was reading three separate stories; till all of a sudden everything came together and then it made sense that the stories were pretty much kept apart till need be. I was drawn to each girl for different reasons and was glad that the author made them all main characters. No one girl's story was shorter than the others, or made to seem less important. Sadie's story was beyond predictable, but I still can't wait to see where her story ends up. I'm really rooting for Rosanna in the romance dept. Again a totally predictable situation, but I'm hoping in the next book she's able to work it all out. As for Miss Darcy, her all over the place antics might have caught up with her and I love how her story ended off. The story was a light read, and I'd recommend it to my teenage nieces for sure. I will be reading the next installation to see how the summer ends for the three new roommates.
Favorite line:
These New York sensations are unparalleled: the rush of pounding the pavement in the summer heat, the sound of cabs honking and music blaring from an apartment window, the sight of vintage mopeds in colors like seafoam, and the smell of bacon as I walk by. So much is happening. This is the place where dreams become reality. This is the place where anything is possible.
I'd give this story 3.5 stars out of 5

.