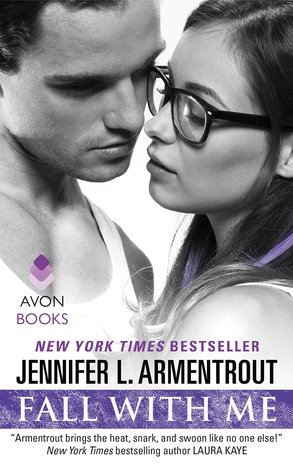 Fall With Me
By
J. Lynn
Expected publication:
March 31st 2015 by Avon
Amazon
†
B & N
†
Author Website
Eleven months ago, bartender and weird-shirt-wearing extraordinaire Roxy and Officer Reece Anders had a one night stand. Well, kind of. She's been in love with him since she was fifteen, and he wishes that night they shared never happened. She's sworn him off forever, but the past and future collide, forcing her to rely on the one man who broke her heart not once, but twice.

Her best friend since birth has been in a long-term care facility since he became a victim of a hate crime years ago, and the person who put him in there is out of prison and wanting to make amends with him and Roxy. She's not sure she has room for forgiveness in her and when she begins to receive frightening messages and is on the receiving end of escalating violence, she thinks she knows who is to blame. The man who already destroyed one life already.

But Reece isn't convinced. The threats are too personal, and even if Roxy doesn't believe him, he's not willing to let anyone hurt her. Including himself. He's already messed up more than once when it comes to Roxy and he's not going to let history repeat itself.
As always, Jennifer did not disappoint. And I seriously don't see that happening any time soon, if ever. I have loved this series from book one. And I continue to fall in love with every new character in every book she writes. In the last book "
Stay With Me
" you meet Roxy. Roxy is this glasses wearing, little cute, eccentric, spunky bartender that works at Mona's. The new hang out spot (a bar) for all the characters of this series. And I loved her immediately. But she carries the weight of the world on her shoulders. And that makes me want to give her bear hug. She's such a sweetheart and she's so adorable. She makes glasses, sexy.
Now, let's talk about Reece. I swear Reece is panty wetting, panty dropping HOT. I see him like a Bradley Cooper kind of guy. Jennifer had me drooling for him. Though some girls in the series feel like Jase is the hottest. I swear Reece is my favorite. I don't know if it's because of his past. He went to war and he's a cop. (Uniform= HOT!) Or that he would drop his pants along with his holster and gun and take Roxy the minute he got home from work. He's just freaking hot.
Jennifer creates these two characters perfectly. These two has loved each other since forever. But they both are stubborn and don't know how to communicate. So they beat around the bush with each other until Reece grew a pair and decided to man up. Which is good because he was so supportive, so sweet and gentle with Roxy. And she needed that. She had to deal with so much in this book. But lucky for her she had Reece. I think what I like the most about Roxy was that you can see her mature throughout the book. She catches herself when she does something wrong or about to do something wrong and she corrects it. I really liked that.
As for Reece, he had his own demons. The sandbox can make a guy go mad. But an unnecessary death can make a guy go nuts. And he went through a lot as well. Thankfully Jax, (you met him in the last book) was there to help him. He had a lot of letting go to become the man he was in this story. And now because he's dealt with his demons he was able to be there for Roxy. He's my favorite. I love me some Reece.
Jennifer is a writing wizard. I absolutely love her personally and as a writer. She writes these characters, only for us to fall in love. And I tell you, I talk about these characters with others as if they're my friends. She's making me nuts. I give Fall With Me a 4.5 stars and it's a definite Good Choice for Reading!! Check out the trailer below. Can someone tell me the name of that song! Please!