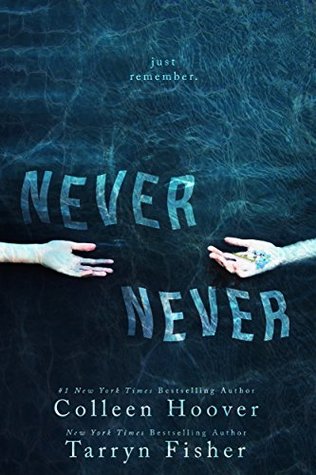 Never Never
by
Colleen Hoover
&
Tarryn Fisher
Published January 7th 2015
by Hoover Ink
Amazon
†
Barnes & Nobles
"How odd to be made of flesh, balanced on bone, and filled with a soul you've never met."

Charlize Wynwood and Silas Nash have been best friends since they could walk. They've been in love since the age of fourteen.
But as of this morning...they are complete strangers.
Their first kiss, their first fight, the moment they fell in love...every memory has vanished.

"I don't care what our real first kiss was," he says. "That's the one I want to remember."

Charlize and Silas must work together to uncover the truth about what happened to them and why. But the more they learn about the couple they used to be...the more they question why they were ever together to begin with.

"I want to remember what it feels like to love someone like that. And not just anyone. I want to know what it feels like to love Charlie."
This is one book that was pimped out to the max. Everybody who is a Colleen Hoover or Tarryn Fisher fan knew that they had to grab this book the minute it went live. And since I love Colleen I knew I had to grab this book. I have not read any of Tarryn's books before so I was going in blind with her part in this book.
I seriously don't know how to start this review that's why it was kind of hard for me to write it. On the one hand I did get drawn into the story, it grabbed me and didn't let me go until I finished it. And I absolutely LOVE when a book does that to me. But on the other hand, I felt like I read a book that was filled with nothing but questions and no answers. I felt so confused by the end. And that, I didn't like.
I really didn't read the blurb before picking this book up. So I didn't know what to expect. But I mean one of the writers is Colleen Hoover. I love her books and she's a hoot on Facebook and Instagram. So picking up one of her books isn't a question for me. But I honestly don't know what I read. Is it romance? Is it paranormal? I just don't know.
The fact is the two main characters in this book ended up with some kind of amnesia. And they go throughout the whole book trying to figure out what happened. And why it happened. The dilemmas they encountered were interesting enough to keep me reading. But it didn't make up for how I felt at the end of it. Clueless. Maybe that should have been the name for this book. Clueless.
I give "Never Never" 3.5 stars. And the sequel to this novel comes out in May and yes I will be grabbing it because despite feeling lost, I am curious as to what happened to these two characters. However if this next book doesn't give answers and end up in another cliffhanger, I'm going to be completely disappointed.