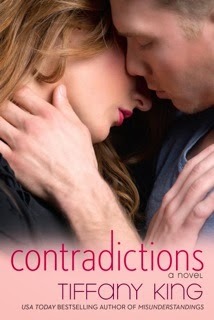 Contradiction
by
Tiffany King
Expected publication:
January 6th 2015
by Berkley Trade
Amazon
†
B&N
†
Author Website
When everything starts spinning out of control

. . . Three years into college, Tressa Oliver's life is a nonstop party. She's skating by in her classes, and there's no shortage of drinking, dancing, and general hell-raising. The only aspect that hasn't been much fun: She can't shake the toxic jerks that always seem to gravitate toward her.

It will take someone totally wrong . . .

Trent Lawson is the classic anti-bad boy: smart, boring, and way too serious. To a wild girl like Tressa, there's no way in hell they're compatible—especially since Trent seems to see straight through her defenses.

To set her right.

When a college prank goes terribly wrong, Tressa starts to suspect that her partying ways are leading nowhere fast. Now she has to turn to the last person she ever thought she'd ask for help—and quickly discovers that there's more to Trent than meets the eye . . .
As always Tiffany King delivers with every single book. If you want a steamy sexy novel, then pick up any of her "Woodfall Girls" novel. Any of them will suck you in and keep you there. And you can pick up any of them in any sequence and won't get lost. Now back to Contradictions, This is Tressa's story, we've read about Tressa in Tiffany's previous work. And what I've learned is that she was a party with no luck with men. But lucky for her, Tiffany gave her, her own book and her own HEA.
Tressa went through a lot in this novel, she experienced how being a popular party girl can do a number to you. Her party ways got her into more dilemmas then she expected. That's when she's forced to change and take her studies more seriously or jeopardized getting kicked out of college. That is when Trent comes into the picture. And the way Trent is described is just as nerdy as he is sexy. A sexy nerd. I'll take one please.
What I enjoyed most about this novel is that Tiffany didn't make Tressa fall for Trent right away. In fact, Tressa was only into "bad boys" so Trent wasn't the kind to fancy her. And it wasn't "Love at first sight" or whatever. You can see when their chemistry started to spark. She actually started to redeem herself a lot in this novel. You can see that she grew a lot. And with Trent by her side, it made it even more interesting. And when things got heated up between those two, it was definitely HOT.
I absolutely love all of Tiffany's novels in this series. So for me to say to go ahead and pick this one up too would be an obvious. She delivers a must read story with Contradictions. She makes nerd, sexy and makes the chemistry heat off the pages. Contradictions gets 4 stars from me and a definitely a Good Choice for Reading!!