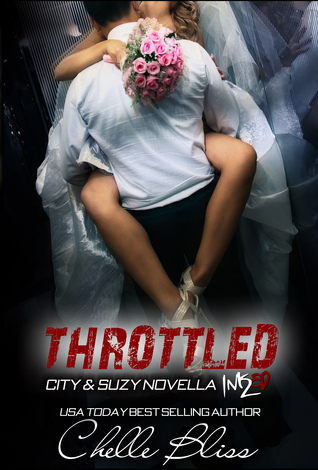 Title:
Throttled (City and Suzy Novella)
Author:
Chelle Bliss
Series:
Men of Inked book 2.5
Genre:
Adult Romance
Publication:
July 28, 2014
Goodreads
Amazon
She's about to become his – Mrs. Joseph Gallo.




All she wants is to be his, but his possessiveness days before the wedding has her questioning the reality of a happily ever after.




He's not easy. He's territorial and doesn't share well with others.




City's staking his claim, making Suzy his forever.




Their future teeters precariously on the cliff of matrimonial bliss.




Will their love survive his alpha nature or will it all unravel before she can say 'I do'?
Alrighty, here is something we've been waiting for...City and Suzy tying the knot. This is a novella, so not a whole lot of length, it's a good short read, and we delve a little deeper into the crazy that is City and Suzy, along with the rest of the Gallo family. Have I mentioned that I love that family? I think I have, but I'll say it again, I love that family. They're all crazy.
So this is all about wedding plans and bachelor and bachelorette parties. Of course, City, being the territorial Alpha male that he is, causes a bit of a ruckus. Suzy just isn't having it. She's a strong woman, and she's....not necessarily changed since Throttle Me, but she's definitely come out of her shell. She's not putting up with City's crap. I love City, but I'm glad Suzy sticks up for herself and puts him in his place.
I enjoyed this novella, and I legit CANNOT wait for Izzy's story.