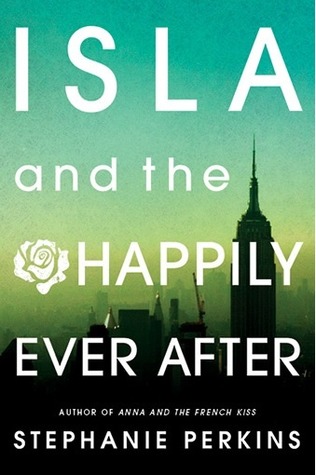 Isla and the Happily Ever After
by
Stephanie Perkins
Expected publication:
August 14th 2014 by Dutton
Amazon
†
B&N
†
Author Site
From the glittering streets of Manhattan to the moonlit rooftops of Paris, falling in love is easy for hopeless dreamer Isla and introspective artist Josh. But as they begin their senior year in France, Isla and Josh are quickly forced to confront the heartbreaking reality that happily-ever-afters aren't always forever.

Their romantic journey is skillfully intertwined with those of beloved couples Anna and Étienne and Lola and Cricket, whose paths are destined to collide in a sweeping finale certain to please fans old and new.
How many of us have been waiting impatiently for this book? Well the wait is almost over. And having read both
Anna and the French Kiss
and
Lola and the Boy Next Door
, I knew I was going to get sucked into this book. You first meet Isla in Anna's book. She's the one that was caught staring at Josh by Anna. And let's be honest, how often can we keep our eyes off the ones we have feelings for? It takes a lot of self control. But Stephanie wrote this story with lots of reality and with the beautiful image of what love is.
I must point out something else before I get into the story. What I love about Stephanie's books is they all have a little bit of something that's consider controversial or topics difficult to capture accurately. In Anna's book, she touches the "cheating" subject. In Lola's book, she was being raised by two dads. But she wrote it with such elegance, you almost forget that she has gay parents, In this book, you meet Isla's older sister who happens to be bisexual and you meet her best friend who has autism. Every details of these characters were written perfectly and with great taste. I truly enjoyed every character in this book.
In this book, Isla finally gets the guy that she's been in love with for three years now. You get to see how they cautiously approach each other and how delicate a relationship can be. Stephanie takes you on a whirl spin on how they relationship began and how they deal with obstacles thrown at them. You also get to see how a new relationship can affect friendships. I think Isla handled everything with delicacy and tried her best to do what's right for both her friendship and her relationship with Josh. Stephanie also takes you on a trip around Paris and other surrounding countries. And describes it's beauty very vividly. This book has a little bit of everything.
The wait is worth it. This book will dazzle you. You're going to love that you get to really get into Josh's head and see his true talent. And Isla's character was also someone many people will be able to connect with. I loved reading about their love and struggles. I really hope she decides to write another book for us under this series. I think Meredith (another character) deserves a book. Let's all try and convince Stephanie to write her book. I truly enjoyed reading this book. Isla and the Happily Ever After gets a 4.5 stars and its a definite Good Choice for Reading!!