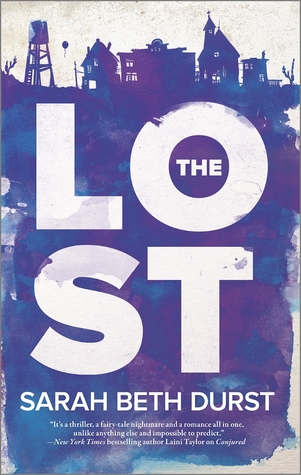 The Lost
By:
Sarah Beth Durst
Expected publication:
May 27th 2014
by Harlequin MIRA
Amazon
†
B&N
†
Author Website
Brilliantly riveting. * Thought-provoking and stirring. **

Award-winning author Sarah Beth Durst has been praised for her captivating novels that merge the darkly imagined with very real themes of self-discovery and destiny. In The Lost, we'll discover just what it means to lose one's way.

It was only meant to be a brief detour. But then Lauren finds herself trapped in a town called Lost on the edge of a desert, filled with things abandoned, broken and thrown away. And when she tries to escape, impassible dust storms and something unexplainable lead her back to Lost again and again. The residents she meets there tell her she's going to have to figure out just what she's missing, and what she's running from, before she can leave. So now Lauren's on a new search for a purpose and a destiny. And maybe, just maybe, she'll be found.

Against the backdrop of this desolate and mystical town, Sarah Beth Durst writes an arresting, fantastical novel of one woman's impossible journey and her quest to find her fate.
Things I've Lost
A Judy Garland book
A weekly Metrocard
My son's favorite blankie
My College I.D.
My wallet
The Lost has me at a loss for words. This book at first was a little hard to read because of how weird it was. I felt like I was reading a book set in the Twilight Zone. The things that were happening just felt so weird and out of place. I had to make myself think out the box. And when I allowed myself to do that, I was able to enjoy the book more. I was able to visualize what I was reading. But I will mention this, I am pretty sure there's going to be many people who will not be able to let the author pull them into the story. It's a really complicated read.
The Lost isn't a place I want to end up at. Lauren was having a difficult time dealing with her mother's diagnosis. And like many of us who have problems with dealing with reality she goes out for a long drive. But little did she know she'd get "Lost" and that's where the story begins. Finding herself lost and unable to get out of this one town, she seeks shelter.
But how weirded was she when she came across the "children of the corn". Okay, I'm making that up but she did come across a bunch of little kids with weapons. (Advice: Stay away from them.) Or better yet a washed up 80's cheerleader who doesn't make any sense or doesn't help her much. Her mission was to be survive long enough for the Missing Man to find her. Confused yet? Yeah, I thought so.
So in Lost you have to survive long enough for the "Missing Man" to find you. The "Missing Man" is the key to sending you home. But what do you do while you wait for him to find you? I don't know, maybe fall in love? Or maybe develop skills that'll help you survive in the reality show "Survivor" or maybe develop a bond between you and a child. Either way, "The Lost" has enough mystery to keep you scratching your head and keep you intrigued.
I enjoyed "The Lost" and I was able to get a meaning behind the story and I hope you do too. I give "The Lost" a 3.5 stars and I think those who are fans of the Twilight Zone or mystery would enjoy this book. I hope to be given the chance to read the second book in series.
I will be giving away 2 ARC copies of "The Lost" to two luck readers.

Rules are below:





1. US ONLY

2. Leave me a comment about something you've lost along with your email adress.

3. This giveaway ends a week from post date.

4. If the winner doesn't respond back within 48 hrs a new winner will be chosen.