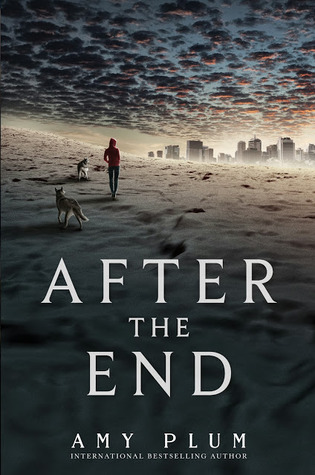 Title
: After The End (After The End #1)
Author
: Amy Plum
Publication Date
: May 6, 2014
Publisher
: HarperTeen
Age Group
: Young Adult
She's searching for answers to her past. They're hunting her to save their future.

World War III has left the world ravaged by nuclear radiation. A lucky few escaped to the Alaskan wilderness. They've survived for the last thirty years by living off the land, being one with nature, and hiding from whoever else might still be out there.

At least, this is what Juneau has been told her entire life.

When Juneau returns from a hunting trip to discover that everyone in her clan has vanished, she sets off to find them. Leaving the boundaries of their land for the very first time, she learns something horrifying: There never was a war. Cities were never destroyed. The world is intact. Everything was a lie.

Now Juneau is adrift in a modern-day world she never knew existed. But while she's trying to find a way to rescue her friends and family, someone else is looking for her. Someone who knows the extraordinary truth about the secrets of her past.
When I first heard about this book, I thought it was going to be dystopian and according to the book's blurb, it should be. Well, it's not. Which I think was my biggest disappointment. After The End is my first book by Amy and although I was slightly disappointed, I still want to read the next book.
Juneau was raised in the Alaskan wilderness. She lived in a small tribe just outside of Denali. She and her clan lived off the land and were one with nature. Her whole life, she was told that World War III has left the world ravaged by nuclear radiation and that she could never leave the boarders. But all of that changes after she comes back after a hunting trip and realizes that everyone is gone. She tries to seek out her dad by connecting to the Yara, which is the connection between humans and nature and sees that he and everyone from her village are surrounded by military men. Juneau then decides she needs to go and find her family. That is when Juneau realizes that everything she was taught was a big lie. Feeling like she has been betrayed by everyone she believed in, she realizes that she is losing her connection to the Yara too.
Then we are introduced to Miles. I can't say much about him because I don't want to give anything away, but he and Juneau meet and go on a road trip to help find Juneau's clan. Then the story is told in dual POVs. I am normally pretty skeptical about those because it can get a little confusing at times, but Ms. Plum nailed it. Each chapter flowed perfectly. At first I wasn't a fan of Miles, but at the end I felt like he finally grew on me.
Consider yourself warned, the book ends with a huge cliffhanger. This did not make me happy because I REALLY want to know what is going to happen next. I can't wait for the next installment!
Guest Reviewer ~ Owl Always Be Reading