I'm thrilled to be here at Good Choice Reading today. I was reading through some of the other guest posts and decided I'd try to cast some of the characters from my next book UNTIL THERE WAS YOU.
First up, Captain Evan Loehr. Claire describes him as Captain America
but that's not really a true depiction of Evan. When I was writing him, The Romance Man suggested at one point that Evan needed a tattoo and thus the inspiration for Evan became Nick Hawke who is much more edgier than Claire's nickname for Evan suggests. Of course, Evan is no where near the gigilo that Nick Hawke plays on TV.
Now for Captain Claire Montoya. I've obviously got a comic book hero theme running because I really picture Jean Grey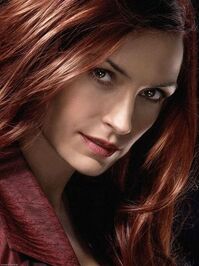 when I was thinking of Claire. As far as real life people? I think Emma Stone would make a great Claire.
The other main character in UNTIL THERE WAS YOU was SFC Reza Iaconelli. It's kind of hard to find a good Hollywood actor to portray an Iranian Italian man but I think Sendhil Ramamurthy does the trick.
Below is an excerpt from UNTIL THERE WAS YOU. I hope you'll check it out and if you enjoy it, remember to enter the preorder sweepstakes!
The storm pounded against the walls of the lodge. Wind whistled through the spaces between the buildings, howling like a banshee.

The T-shirt Evan wore clung to his chest like a second skin, revealing hard angles and sharp planes that disappeared into the belt around his jeans. Claire breathed in and caught the scent of . . . laundry soap?

Never in three combat tours had she figured out how to get her laundry to smell like something other than the sterile, pungent odor of dirty water and cheap detergent.

One thing she missed when she was traveling was the smell of warm clothes fresh from the dryer. Tonight that smell mixed with the scent of Evan's skin and it sent warmth spiraling through her.

She shifted so that she could look up at him.

He sat too close, close enough that she could see a smudge of shaving cream below the line of his jaw. She reached for it before thinking about it, swiping her thumb over his pulse. He swallowed, his dark gaze capturing hers. "Do that again," he said, his voice rough.

The temptation to touch him, to feel his hot skin beneath her fingertips, was too strong to resist. She traced her index finger beneath his ear, down the strong line of his jaw to the sensitive skin covering his pulse.

He slid one hand into the hair at the base of her neck, his fingers strong and hard against her skin. She tipped her neck, tacit permission for him to touch her. Hot sexual tension ripped through her, slicing any hint of restraint to shreds. Heat pooled between her thighs and she was suddenly, achingly aware that they were alone.

He nuzzled the sensitive skin beneath her ear before cupping her face and urging her to turn to him. She smiled against his mouth, flicking the tip of her tongue over the full edge of his bottom lip, acutely aware that she was doing more than just teasing him. She was crossing a line she'd set for herself years ago. She was lowering barriers that had been guarding her heart for what felt like a lifetime. And it felt good.

She opened her mouth and kissed him. His surprise was a burst against her tongue, his taste a potent, raw hunger. He moaned low in his throat, his fingers clenching the back of her neck.

Her fingers curled into his chest of their own accord, the chain of his dog tags biting into her skin through his T-shirt.
I'll pick a winner today to receive a digital eARC of UNTIL THERE WAS YOU.
From the back cover:
Jessica Scott returns with an all-new contemporary eBook original romance, following last fall's release of her sizzling debut novel Because of You.

He plays by the rules, she's not afraid to break them. Now these two strong-willed army captains will prove that opposites attract . . .

A by-the-book captain with a West Point background, Captain Evan Loehr refuses to mix business with pleasure—except for an unguarded instance years ago when he succumbed to the deep sensuality of redheaded beauty Claire Montoya. From that moment on, though, Evan has been at odds with her, through two deployments to Iraq and back again. But when he is asked to train a team prepping for combat alongside Claire, battle-worn Evan is in for the fight of his life.

Strong, gutsy, and loyal, Captain Claire Montoya has worked hard to earn the rank on her chest. In Evan, Claire sees a rigid officer who puts the rules before everything else—including his people. When the mission forces them together, Claire soon discovers that there is more to Evan than meets the eye.

He's more than the rank on his chest; he's a man with dark secrets and deep longings. For all their differences, Evan and Claire share two crucial passions: their country and each other.
Remember to enter the
UNTIL THERE WAS YOU PREORDER SWEEPSTAKES
all throughout September until Oct 7th!
a Rafflecopter giveaway
You can preorder UNTIL THERE WAS YOU at these ebookstores or wherever ebooks are sold!
B & N
|
Amazon
|
Powell's
|
iBookstore
BIO
:
Jessica Scott is a career army officer, mother of two daughters, three cats, three dogs and two escape-artists hamsters, wife to a career NCO and wrangler of all things stuffed and fluffy. She has commanded two companies, served in Germany, Korea, Fort Hood and Iraq, and been lucky not to get fired. She is a terrible cook and an even worse housekeeper, but she's a pretty good shot with her assigned weapon. Somehow, her children are pretty well adjusted and her husband still loves her, despite burned water and a messy house.
You can find her online at:
Website:
http://www.jessicascott.net
Facebook:
http://www.facebook.com/jessicascottauthor
Twitter:
http://www.twitter.com/jessicascott09
Goodreads:
http://www.goodreads.com/author/show/5131118.Jessica_Scott