FOREVER by Maggie Stiefvater
The thrilling conclusion to #1 bestselling Shiver trilogy from Maggie Stievater

In Maggie Stiefvater's Shiver, Grace and Sam found each other. In Linger, they fought to be together. Now, in Forever, the stakes are even higher than before. Wolves are being hunted. Lives are being threatened. And love is harder and harder to hold on to as death comes closing in.
I loved reading Forever but for me it felt more like another installment rather than a conclusion. I was actually left with more questions seeing as (in my opinion) the ending didn't resolve everything I was hoping it would. I love how Maggie upped the stakes by making the wolves hunted, therefore, it gave the characters added pressure in trying to find a resolution to their plight. I loved the chemistry between Isabelle and Cole. I also enjoyed the evolution of Cole from suicidal to becoming the person he was always meant to be. But, of course, I can't forget about Sam and Grace. They have a love that transcends all things. It is pure in it's innocents and all consuming in their devotion to each other. Grace and Sam are two halves of a whole. They do not work well without each other. When they are together they are capable of great things whether it be for each other or the pack. The ending left such a wide door open (in my opinion) either for a fourth book or a possible spin-off for Isabelle and Cole. If this was supposed to be the last book I wish Maggie would have closed the door tightly and sealed up any cracks that were left over. With that being said, I really did love reading Forever. Yes, I had some ending issues but, if you are a fan of this series like I am, reading this book is a MUST. On a scale from 1-10 I give Forever a 10. Just because the ending wasn't as I had hoped it still didn't take away from how great a book I thought it was. Everyone needs to run out and pick up a copy of Forever. If you are new to this series you really need to pick up a copy of Shiver, and Linger on your way to picking up Forever.
Link:
http://maggiestiefvater.com/
http://m-stiefvater.livejournal.com/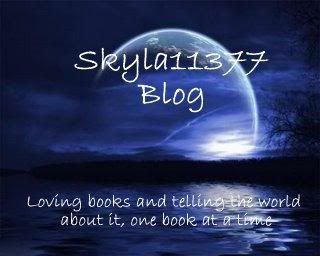 Skyla11377