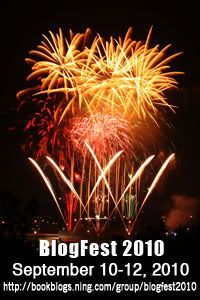 We are at it again! Another huge giveaway happening on September 10, 2010 with over 50+ Blog's participating!
Our last giveaway was broken down to a list of books in Paranormal Romance and Young Adult. This time we will have something similar, but we will also include some other prizes.
If you are a Self-Published or Published author and would like to donate something for the giveaway (Book marks, Ebook, Book, Poster, anything) feel free to e-mail us at GoodChoiceReadin@aol.com. You know how much we love to discover and spread the word about NEW & Past books! :-D
To our Old & New Followers:
What would you like to see on our list to giveaway?
We appreciate you all and your opinions matter to us! hehe
So mark your calendars!! It's going to be so much fun!!
If you are a book blogger and would like to participate in the event, there is still time to join. Click the link below to join...
You can also just check out their blog for a list of participating blogs that have already signed up...
Thank you everyone!