First I want to say Thank you to Meagan for doing this with us and let everyone know that today, June 1st, is also Meagan's Birthday... HAPPY BIRTHDAY!!! Here is a little banner hehe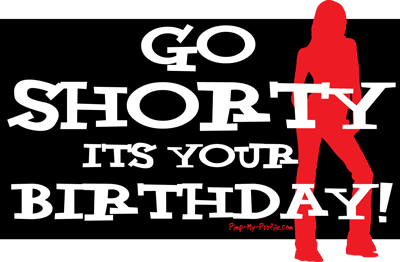 This is our very first contest here at Good Choice Reading all thanks to Meagan! She is giving away a signed ARC (Advance Readers Copy) of her book "Shadow of The Vampire," which is out in bookstore's July 1st. She will also be answering a couple of questions for us and doing a live chat at the end of the month before her book comes out.
Here is a little information on her book as well as a link to her website, where you can find more information on Meagan. Also, links to her Yahoo group, Facebook, Twitter and GoodReads fan page...
Title:
Shadow of the Vampire
Publisher:
HQN
Release Date
:
July 1st, 2010
ISBN:
978-0373775002
Pages: 368

About the Book
:

Even vampires should never sleep with the enemy.

Vampire princess Alexia Feodorovna has been undead for 125
years, so it's been a while since any man has made her pulse
race. Until Declan Black. One look at his bronzed body and a
fire like no other consumes her. Then she discovers that he's a
dragon lord come to take revenge on the vamps who killed his
parents. And claim a crystal said to imbue its owner with
incredible powers.

Alexia is ordered to torture and kill the dragon lord. Yet with
each reckless encounter, she finds herself consumed by his fiery
passion. A passion Declan battles, as well. Will he be able to
resist the fire of lust she kindles within him and keep revenge in
his heart? Or will he risk everything to quench the burning desire
and claim the vampire as his own?
To enter for a chance to win simply fill out this form
SOTV CONTEST FORM
and then make sure to check back on the 7th of this month to see if you are the lucky winner. The winner will be contacted by e-mail as well.
This contest begins today (June 1st) and Ends June 7th. If you have any questions please feel free to leave a comment and we will reply ASAP.
Note: You do not need a blogger acount in order to follow our blog. You can easily follow us with your Facebook account, Twitter account, Yahoo Mail, Google Mail, AIM, Open ID, and Netlog.
REMEMBER: Keep the questions for Meagan CLEAN! :-D If you have any questions for any of the ladies and I just leave a comment below.
HAVE FUN!!!! hehehe :-)